Bee yourself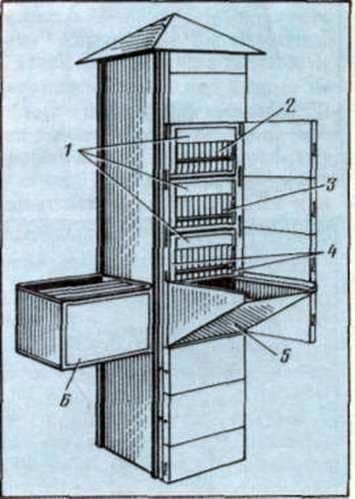 Multi-hull factory-made beehives in many respects do not suit me, so I had to develop my own design. (see the figure)
The height of the hive is 1.9 m. It holds 7 cassettes (1) for 10 frames (2) for 230 mm each. The cassettes are light and strong, have transparent (glass) rear walls (3) and protrusions (4), which exclude injury to bees. Cassettes are pulled from the hive onto the hanging table (5). When inspecting the nest is always at hand a hinged auxiliary box (6). 40 mm hive walls made of hardboard, bars and other light material. There are 7 round and 6 slotted tapholes.
Thanks to the transparent back walls, it became possible to observe bees at any time of the day and year without interfering with the life of the family. This minimizes the inspection of the nests and the risk of loss or injury to the uterus. The work is facilitated by a hanging table, on which it is possible to extend any cassette and move it to the desired "floor". It becomes possible to control the swarm condition of bees due to the precise determination of the number of insects in the family, the timely expansion of the nest, and the organization of the layers.
In my hive, you can use two-piece content of bees, create giant families with a mass of 14-16 kg and a volume of 6-7 cassettes. The cost of the hive is not more than 25-30 rubles. Having at least some carpentry skills, it can be collected in several evenings.





(
1
votes, average:
5.00
out of 5)
Bee yourself