Bee-louse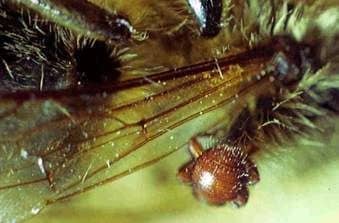 If the bee-wolf is an armed knight-robber, then the bee-louse (brow) is by nature not at all like him. First of all, it must be said that it also resembles a louse like a wolf philanthropist. It can rather be attributed to the genus of flies that have lost their wings due to a parasitic lifestyle. By their name, these insects are due to the fact that they, like lice, roam in the dip covering the body of the bee, and claws on the tips of the legs allow them to be held securely there. They prefer the uterus, on which a dozen browsers can be found in the affected hives.
They also fall on working bees, but in a much smaller number.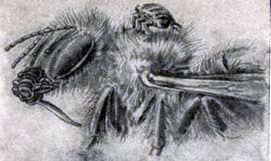 Fig. 102. A worker bee with two bee lice, one of whom begs for her food.
Hungry, the brows flee to the bee's head, cling tightly to her mouth and beat her legs on the lip. Tickling in this place means that bees "in the tongue of tentacles", that the girlfriend is hungry. And indeed, the bee, in which the little horseman begs for honey, lends itself to deception. She opens her mouth and lets out a drop of honey. When the uterus receives food from the mouth of the bees-wet-nurses, the louse on it does not miss the opportunity to participate in the meal. In this case, she does not even have to beg for food. The bees do not cause direct damage to the bees, but if they are many, the uterus becomes restless and lays fewer eggs. The caring beekeeper catches it from the hive and, holding it in handfuls, fumigates to release from harmful "guests."





(
1
votes, average:
5.00
out of 5)
Bee-louse