Small wax moth
A small wax moth (Achroea grisella F.), is distributed as widely as a large one. It is somewhat smaller than the large one: the female in the span of the wings is 23 mm; male in the span of the wings 18 mm. Color of the wings is uniform, ash color with oily gloss; they have a pointed-oval shape. Eggs are the same as those of a large wax moth.
Caterpillars of a whitish-yellow color, with a yellow head. Caterpillar small wax moth in its development has 15 ages. Holes and cocoons, she is stronger braided with cobwebs than a caterpillar of great moths. In the tracks of small moth caterpillars, more feces remain than in large caterpillars. Caterpillars of wax moths are more mobile, with sharp movements, they touch when touched. They usually do not move along the mediastinum, but from one side and more often damage the bee-pupae.
Damaged young pupae of the bees move somewhat from the bottom of the cell to its lumen, as a result of which the bees build the lid over it not completely, but only from the edges, about half the radius of the cell, leaving the middle of the cell open. The edges of the unfinished lid are thickened and bent in the opposite direction from the middle of the honeycomb, forming the so-called tubular brood. Cells with such broods are located more often in a single line.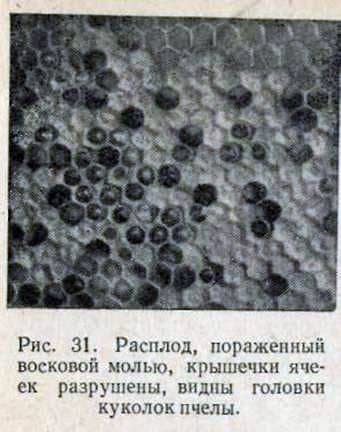 Bee pupae lying in such cells completely complete metamorphosis and usually die when their eyes get blue. The study of these pupae shows that their wings and legs are damaged, the abdomen is often covered with yarn and moth excreta. When extracting the dead pupae at the base of the cell, you can find the movements and larvae of moths of the first ages.
The way of life of a small wax moth, prevention and control measures are the same as with a large moth.
Small wax moth