Roast in a honey marinade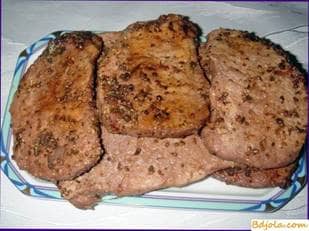 1,250 kg of meat, 3 tablespoons of honey, 2 tablespoons of vinegar, and a half tablespoons of crushed garlic in a small amount of water, 3/4 cup of vegetable oil, finely chopped green onions. Honey, vinegar, garlic, vegetable oil, carefully mix onions.
We remove the fat from the meat, cut it diagonally in the form of diamonds. We lay the meat in a frying pan and pour the marinade. Leave for 4 hours at room temperature or set at night in the refrigerator. The meat is cooked in marinade, then roasted to fat, over medium heat, for 6 minutes on each side. Cut the meat into slices.
Roast in a honey marinade