Re-equip your hedgehog
Fig. 1. Bottom disc: (top view) 1 – window for the shoulder of the frame, 2 – window with staples for fixing the frame.
From the chordial four-frame honey extractor, it is easy to make a 10-8-frame radial frame on the frame of a multi-hull beehive. I have been using such a ten-frame medobonka for twenty years. Its productivity is several times higher than that of the chordial one. It almost does not break the honeycomb, even freshly built. Honey is pumped from both sides of the honeycomb at the same time. If you put a belt drive on the belly, then it works absolutely noiselessly.
Now in brief about the device of the honey extractor. From the tank, all four cassettes are removed. The hard part is to make the bottom disk.
It is made of stainless steel with a thickness of 1 mm or aluminum (2 mm). The disk is attached to the lower spokes of the rotor, it has a window 1 (ZOX 15 mm). It includes the shoulder of the frame, and its side plate is firmly fixed to the plates 3 of the window 2 (30X30 cm), preventing lateral movement of the frame.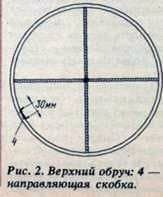 On the upper hoop rivet the guide bracket 4, which fixes the frame in a strictly vertical position.
The upper guide bracket and the lower window 1 must be strictly aligned vertically.
The frame with the honeycomb is inserted over the top guide bracket by the upper bar, the frame shoulders are lowered into the window 1, the side frame of the frame is fixed with the plates of the window 2.
In my work there was no case that the frame jumped out of its nest. Who can not make a honey drive silent, can leave the existing drive.
Re-equip your hedgehog