Creamy honey cream with gelatin
Creamy honey cream with gelatin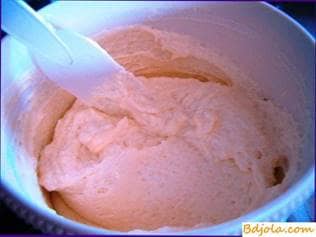 Rinse 1/2 teaspoon of gelatin and discard on a thick sieve. Put in a glass, add 1/2 cup of cream, mix. After 2 hours, when gelatin swells, put the glass in hot water and stir the contents until the gelatin is completely dissolved. Cool to 40-50 њ C. The remaining cream (1 glass), whisk together until a loose mass is obtained.
Without stopping the knocking, gradually pour 1/2 teaspoon of powdered sugar and add 2 tablespoons of warm honey, pour a thin stream of gelatin solution.
Tint the cream with food colors until it is thick. If the cream you need for the filling, you can add chopped nuts or pieces of fruit. Use the cream immediately after adding gelatin.
Recipe 2
Honey honey cream on milk.
Pour in a pan 2 cups of milk, add 2 tablespoons of sugar, a tablespoon of honey and, stirring, bring to a boil. Separately, slightly knock down one egg, without interrupting the knocking, pour a thin stream of hot milk with sugar. Bring the mixture to a boil, then cool to room temperature. While the syrup is cooled, bring down 100 g of butter and gradually pour the cooled syrup from it in small portions and again bring down the mass to form a loose cream.





(
1
votes, average:
5.00
out of 5)
Creamy honey cream with gelatin